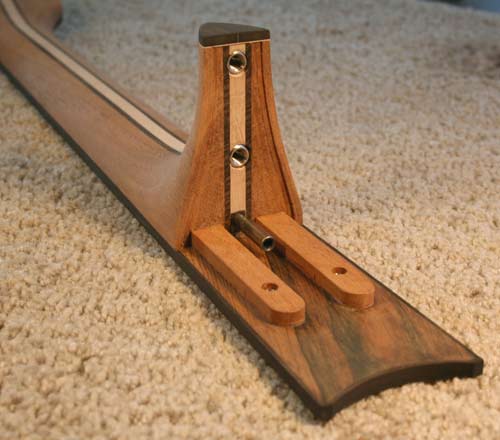 This is the completed neck with the truss rod adjustable from inside the guitar.
The mahogany alignment bars with threaded inserts are glued in a cavity routed in the neck/ body and glued to the underside of the fingerboard. Attachment to the body is achieved with the stainless steel inserts in the heel. The fingerboard is attached to the top by means of the threaded inserts in the alignment bars.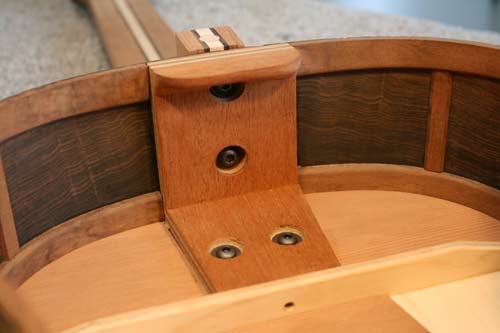 Bolt-on neck Kit: $35.00
(Price includes shipping in US)
International customers: to inquire about shipping expenses CLICK HERE to send an email. Please let us know where you live and what you would like to order and we can send you a PayPal invoice.
California residents please add 7.625% sales tax.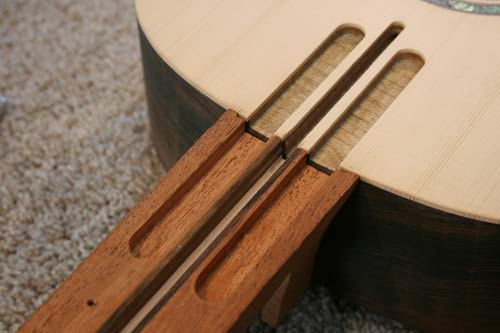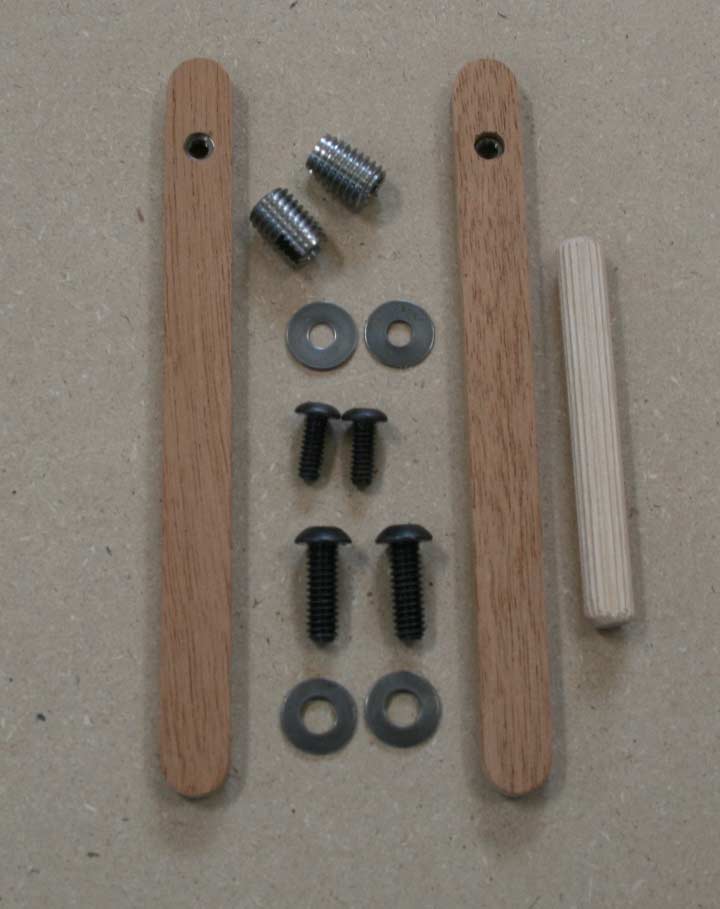 The kit includes two mahogany alignment bars with threaded inserts and all the fastening hardware which includes the stainless steel threaded inserts for the heel and Belleville spring washers to keep things in place.
Not shown are the 5-page plans/instructions, 1 additional sheet with full size heel patterns, and a step-by-step internet help page to make this task easy for "one-off" builders or for those in a production environment.
The kit does not include the truss rod or any parts for the neck or body.
If you are returning to buy more of these kits and already have the instructions/drawings please indicate this and we will take $4 off the the price and not send out the drawings again.
The kit does not include the truss rod or any wooden parts for the neck or body.
Shown above with a 2-way truss rod that will be adjustable from inside the guitar, the rod can be reversed for adjustment at the headstock.
To see guitars using this system, go to: www.michelettiguitars.com
Additional Information:
After owning a instrument repair shop in northern California for many years I started thinking about the advantages of a mechanically fastened neck. Removing and resetting a neck is very expensive and labor intensive. You can remove a bolt-on neck in less than 5 minutes. Many guitar tops crack near the fingerboard because the woods cannot expand or contract independently. Applying and polishing the finish at the neck/body joint and the top/fingerboard joint is difficult. I could go on...
In the mid 80's, I began experimenting with mechanically fastened necks on my own guitars as many other builders did. Would there be a resonance or projection loss? Would the neck stay fastened to the body? That first prototype is still going strong. There was no resonance sacrifice.
I have refined the connection many times over the years and have come up with a straightforward, easy to fabricate system. You don't need a lot of tools or fixtures. The neck stays aligned with the body centerline and it won't move.